This is Lucy's story, as written by her adopter.  
I came across PDWRA by accident, having spent a couple of years considering getting another pug. I'd had Hetty for 5 years, since she was 13 weeks old, but she had started to become quite anxious on walks, at times refusing to walk at all.
I filled out all the paperwork, and passed all the checks, and seemed to be waiting ages for a pug to become available. Then one day, I got an email to say that a pug was to be taken into PDWRA care, the pug may be a match for us, but no further details could be given until the pug had been surrendered. I told everyone about it!!  Again, it seemed like ages until I got an email with a picture "Introducing Lucy!" A six year old female (6 months older than Hetty), in good health…….and in Swansea!!!  I was willing to travel anywhere for the right pug, but from where I live, Swansea is probably the most awkward place to get to!
The fantastic PDWRA volunteers managed to get Lucy to Donnington Services, and by the time I collected her, she had been on the road for about 10 hours. She was quite disorientated, but when she met Hetty, it was as if they had always known each other. She happily got into the car for the final stage of her journey.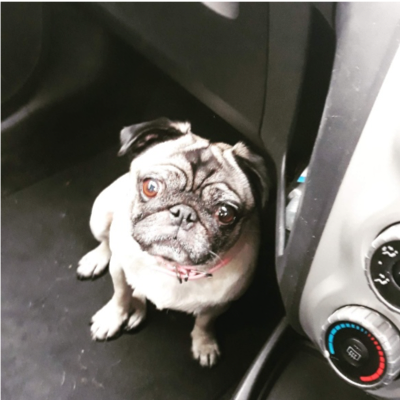 Once at home, Hetty shocked us all by becoming quite territorial, growling and snapping and not herself at all.  But Lucy just seemed to focus on her own settling in period, enjoying her walks immensely, and snuggling on my knee each night. Lucy fell in love with my eldest son, and decided she would sleep on his bed each night, which gave Hetty a bit of space. Within a few days, Hetty started to really enjoy her walks again, and seemed reassured by confident little Lucy trotting ahead.
At our first Vet check, the Vet said Lucy was a perfect size, but that Hetty needed to slim down – it had been difficult to manage her weight with her not really exercising as she should.
After a couple of weeks together, I noticed that Lucy seemed to follow Hetty's lead around the house, and Hetty would follow Lucy's lead on walks. We were walking for over an hour every day at this point and I felt the start of us all becoming a little unit. When they were off their leads, Hetty would chase Lucy and try to start a rumble. I took Hetty into the Vet to check her weight and found that she was really shaping up, and there wasn't much difference between them. Lucy still seemed to have a lot of anxious energy and seemed to panic if Hetty was getting any attention. By this time Lucy had moved into my room to sleep.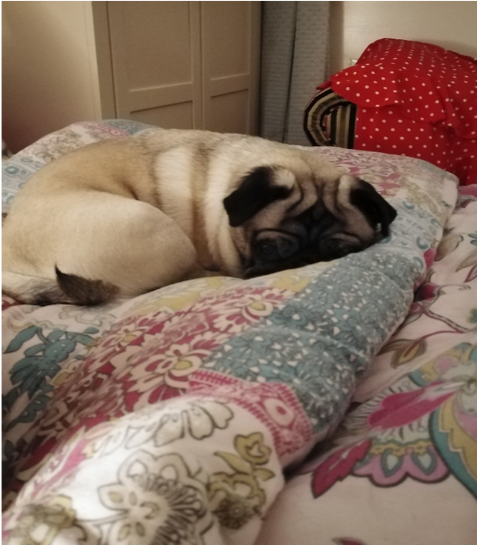 Lucy has been with us for almost six months now, and she has melted our hearts. She has been life changing for Hetty, who is now a healthy weight, has much more energy and loving her walks. Lucy has really slowed down, and I think this is because she has settled into our family so well, and isn't expecting to be moved anywhere else, and so has less anxious energy. Hetty and Lucy are a proper little duo, the Cagney and Lacey of the pug world! One blonde one dark. 😁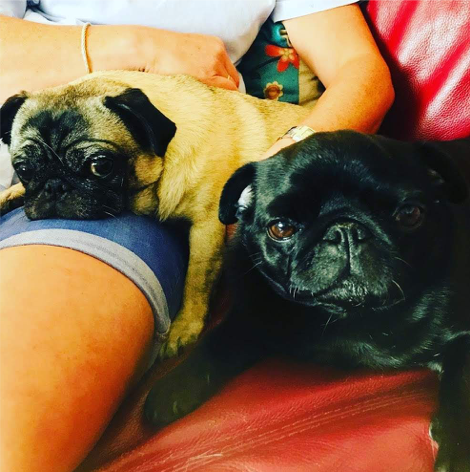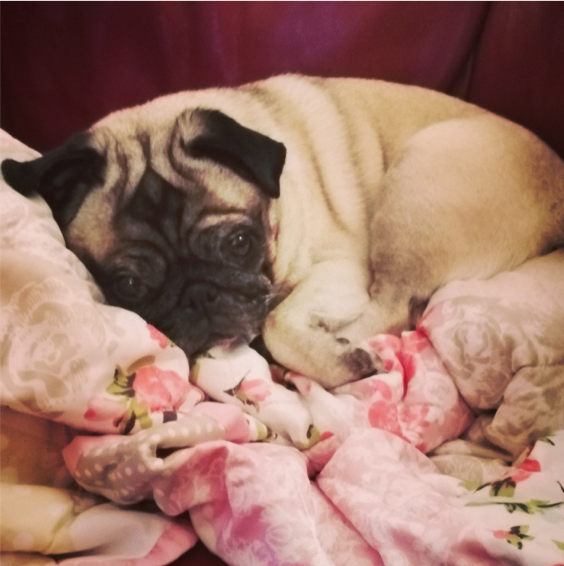 Lucy is simply adorable.