We thought you might like to see Shirley and her family.  She is doing really well thanks to your generosity and the splendid care she has.
Here she is at Lanhydrock near Bodmin in Cornwall, at the pug meet up yesterday (Sunday) with Wilson and family and friends!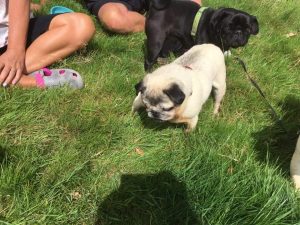 Shirley has had her operation!  Funds in excess of £850 were raised in a very short space of time (just a few hours) – what generous and caring supporters we are lucky enough to have.
Shirley's Mum says :"she's still very sleepy but that isn't anything new as she loves to snooze all day.  Eating well and having natural yoghourt for her sore throat.  She's not loving this weather at all, so hope the storm passes quickly and she can get back to sunbathing in the garden.  If you could thank everyone for their care and support for Shirley."
Here are some post-op pics of the beautiful Shirley.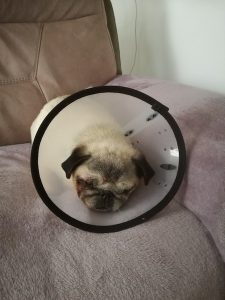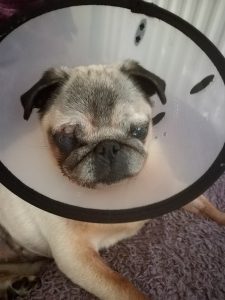 Meet Shirley. She is 12.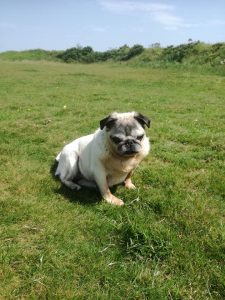 Shirley Crabtree (she's a bit cranky) is 12 years old.  She is blind, but otherwise healthy.  Her favourite pastimes include sunbathing in her garden, and being carried by her adopter across the moors.  Shirley is partner to tripawd Wilson (a black PDWRA pug) and lives with her adopters' two existing male pugs.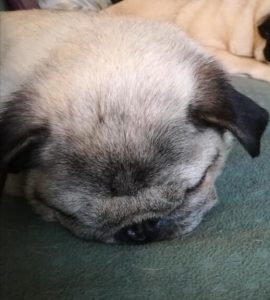 Shirley and Wilson were previously adopted through PDWRA some time ago by a lovely older lady, but sadly she fell and suffered serious brain damage, also badly breaking Wilson's leg in the fall.  Both pugs were placed in foster care in Cornwall.  The fosterers very kindly cared for them, the intention being that if their owner ever made a full recovery, the pugs would be returned.  However, this was not to be, and the pugs were surrendered into our care in August 2018.  Their fosterers, Leanne and Graeme, immediately chose to adopt both pugs.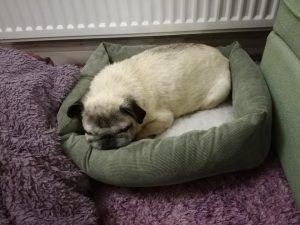 Earlier this week we received a call from Leanne to say that Shirley's eyelid cyst had grown enough to cause a painful ulcer in her eye.  At the time of adoption, the cyst was very small, and not of huge concern; but it was nevertheless there.  We have been given a verbal quote of £850 for this surgery, to be undertaken as soon as possible.
If you would like to help fund Shirley's surgery, any donations would be very gratefully received.
You can donate via the following link:
https://pugwelfare-rescue.org.uk/donating-to-pug-dog-welfare/
Please use the reference SHIRLEY.
Thank you.