Sadly, fireworks are set off in the weeks leading up to Bonfire Night, Halloween etc.  Many pugs, especially rescues who may have been kennelled outside, are extremely anxious around this time.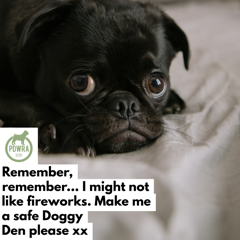 The Dogs Trust website has some useful top tips:
make sure your house and garden are secure
walk your dogs before dark, or as early in the evening as you can, then keep them indoors
make them snug.  Some owners swear by "Thunder Shirts" or "swaddling" techniques to help them feel as secure as possible.  You can purchase these online, or use jumpers or jackets they're familiar with
use "Adaptil" plug-ins, collars, sprays etc which may calm anxious pets, or other natural supplements such as "YuCalm"
turn up the TV or radio, or put music on, to drown out loud bangs
enjoy fireworks safely, make a safe and secure "den" hideaway for your pet.