Report from Lisa, PDWRA Rehoming Co-ordinator for Yorkshire:
We smashed it – £1,504.56 !!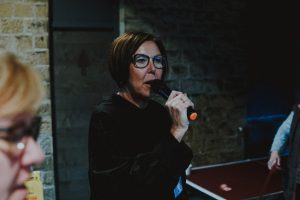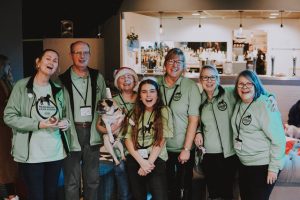 Working in partnership with DIGs Student Accommodation, we hosted our first Christmas Pug Party at Storthes Hall Park, West Yorkshire.  It was a resounding success.
Emma and Lisa, and the DIGs staff and students were amazing, nothing was too much trouble, and they ran a pug creche providing lots of cuddles and did numerous woodlands walks with the pugs.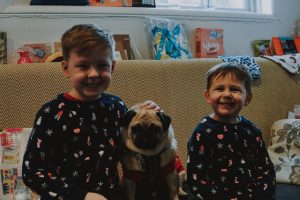 A PDWRA forever home made the journey from the East coast to reunite their PDWRA pug with their former foster family; we hadn't told them, so it was a big surprise – and there were tears!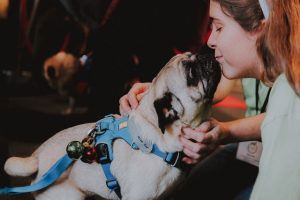 and now to the Thank You(s) –
Oh my goodness, there are so many, I hope I don't miss any:
Everyone who donated – MB Textiles, @sophiebrabbin, Hug Rug, Headline Hairdressers, Two for Joy Tattoo studio, Morrisons at Elland, Stinky Dog Groomers, Cost Base North, Lisa Wedge; drink donations from Louise, Carol, Carol; Aaron for VIP tickets, stall holders (Jean, Paula, Justin, Fiona, Dawn, Maggie, Alison and Peter), Ryan and Karen for photos, Yasmin, Kelly and West Yorkshire Pugs for marketing – and Pauline, Maggie, Paula and Dawn for their beautiful homemade crafts.
Volunteers who helped on the day, Students, PDWRA volunteers (Jo, Jackie, Alison and Peter who collectively knocked up 726 miles to be there!), Santa and his helper, Martin the amazing chef who makes a tasty Sunday roast!
Amanda, Maria and their families for hour and hours of work and so many ideas for the event.
and DIGs Student Accommodation for the fabulous room!
See you all next year!
Lisa
PDWRA Area Rehoming Co-ordinator – Yorkshire