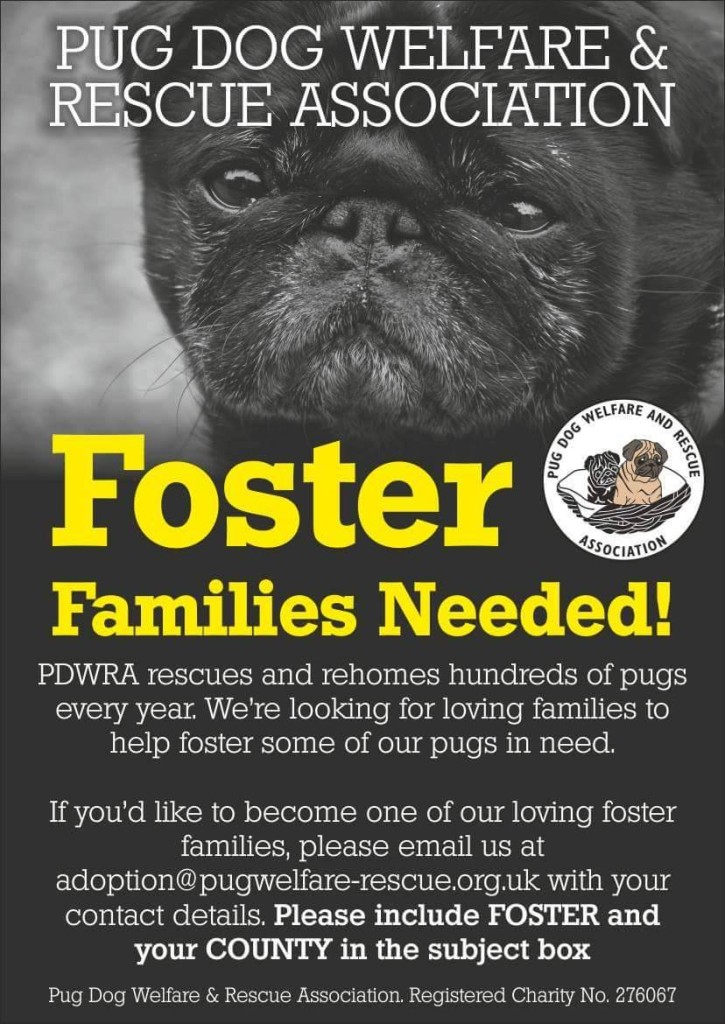 If you would like to foster a PDWRA pug, please email adoption@nullpugwelfare-rescue.org.uk
Please mark your message "Foster Enquiry" and state whereabouts you live (please include your postcode).  This is essential so that we can get back to you as soon as possible.  Applications will be acknowledged by email, and a member of your local Area Rehoming Team will then contact you as soon as possible, to take further details and to arrange a mandatory home check.
Some PDWRA pugs are placed in long-term foster care due to their age or health issues; other pugs are placed in short-term foster care for assessment, spaying/neutering etc before being permanently rehomed.  If you have a particular preference for providing long or short-term foster care, please do let us know.
Veterinary expenses for foster pugs are paid by PDWRA.
If you apply to foster, we ask you to please note that fostering a pug is NOT necessarily a short cut to adopting a pug, and should not be regarded as such.  We are lucky enough to have some fabulous foster carers, who help us by regularly fostering different pugs and getting them ready to move on to their forever homes.  However, each year does always seem to see a number of foster failures!
To everyone who has already applied to foster or adopt a pug, we ask for your continued patience – it takes time and organisation to process all applications and to arrange for our mandatory home checks to be carried out.  We are all volunteers, doing our best to help pugs in need wherever and whenever we can.  Our intake in 2017 to date is higher than it has ever been.