After a long time since our last article on Phoebe I thought it was about time you all had an update. After the last mention of Phoebe she seems to have gone famous, after being recognised a few times by pug welfare and rescue readers when we have been out walking. So I thought it was time I updated everyone on how she was doing.
Despite her deafness she seems to be learning so much so quickly.
She has settled in amazingly well and has now been with us nearly eight months. Last time she was doing well learning hand signals. Despite her deafness she seems to be learning so much so quickly. She will now always 'sit' on command so long as she can see you, though she will only lay if the floor is warm. She has picked up 'no' and 'leave' really well and they work 90% of the time. Though I don't think her recall will ever be good, she just likes to explore and smell everything rather than checking what hand singles we are doing. She still prances around the house thinking she owns everything and she has now learned that if she stacks up the scatter cousins on the sofa she can sit and survey her entire kingdom (the downstairs of the house) without the need to ever walk again. Even better she has now learned she can move them next to the radiator so she can survey the kingdom in warmth too. Whoever said dogs have a hard life.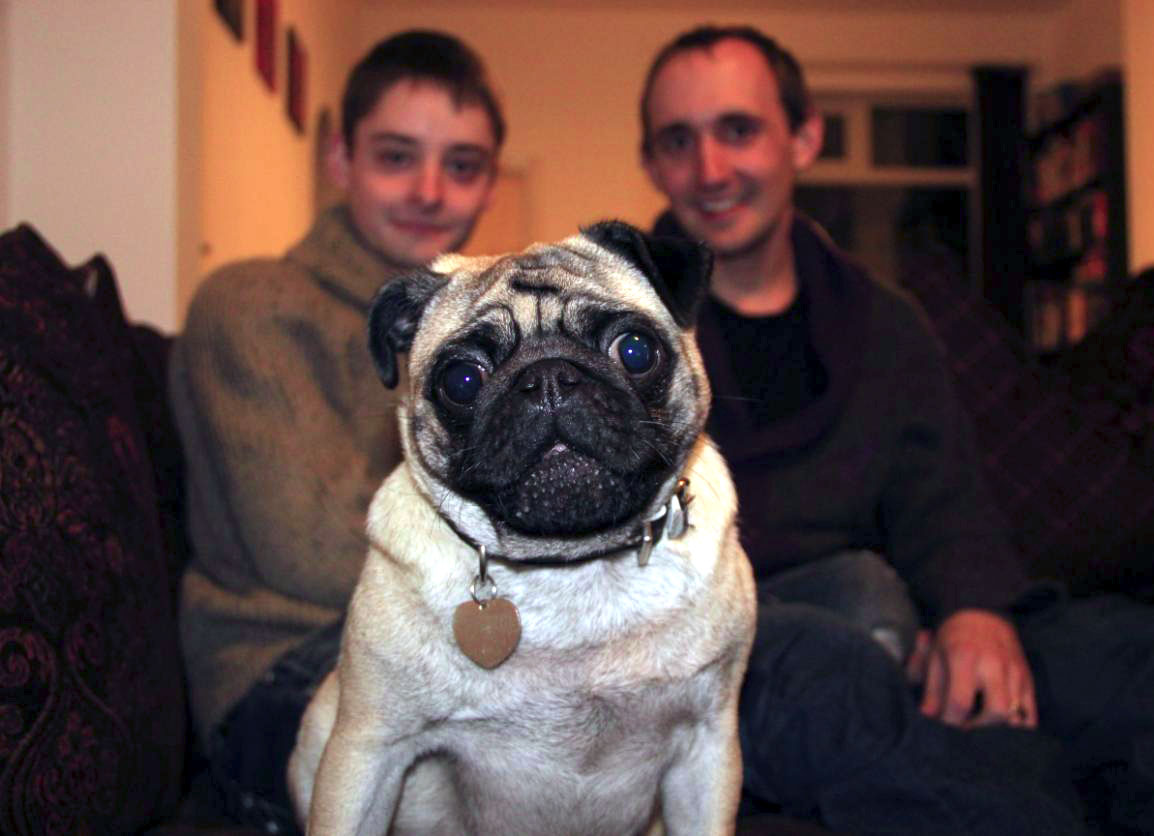 Christmas went along smoothly and opening present and then running off with the wrapping paper is now a fun past time. She has also recently had her first birthday and as she gets older she doesn't seem to be losing any of the puppy traits we fell in love with when we first saw her. I don't know what it is about her but anyone she meets falls in love with her; not that anyone couldn't with a face like hers.
One of the key points we were told when we were looking at pugs, and before we ever had Phoebe was that pugs don't really break dog toys. Well apparently no one ever relayed this message to Phoebe as she regularly destroys her toys and teddies, and seems to take great delight in bring forth their last moments of life. I have included pictures of two of her favourites which have now gone on to dog toy heaven.
Ninja Donkey – how we enjoyed your company, how regularly we would find you and phoebe curled up in her bed, and then you had to go and spoil it all by losing your head.
Rope and ball – how much fun we had dragging and throwing you around so that Phoebe could chase you. You lasted the longest of any of the toys, but in the end the threads where no more and you were soon no more for this world.
I hope you all have enjoyed the update of Phoebe's adventures and hopefully we will see you all this year at one of the pug welfare and rescue events.
Thanks for reading!
From Jason, Kane and Phoebe