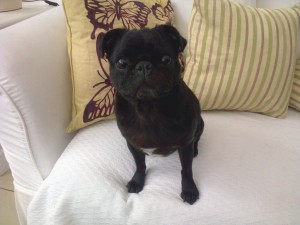 We were persuaded to have a pug by our daughter who when she reached 18 promised us that she would buy the pug with her savings and would walk her everyday before she went to college etc!
We had held off having a dog all through our daughter's childhood as both of us were out at work and the dog would have been on its own all day. After much pleading we agreed to look for a pug. After many months we found a lady in Manchester who had pug puppies for sale. We had decided that we wanted a girl puppy and so off we went and fell in love with them all immediately. Both mum and dad were there and were beautiful pugs, and this was mum's first litter. It was a loving home and we were very happy with conditions etc. Hence our first pug, Frankie. She is the most laid back girl you can imagine. She loves everybody and looks forward to seeing her boyfriend, a black boy pug who lives locally called Oscar. They love playing together and it is wonderful to watch.
After seeing how happy she was when she went on her walks we decided to get her a sister to play with. Along came Charlie. She settled in immediately and Frankie was great with her. She did get a bit worried when Charlie kept thinking Frankie was her mum and trying to feed from her. Charlie settled in well and has her own little personality. She is very fastidious (unlike Frankie) and has to be the boss, but Frankie is fine with this as she is too lazy to care.
We got in touch with Pug Welfare as we came across them on the internet. We thought we might like to help in any aspect as we had seriously fallen in love with our two girls. We filled out the application saying if any pugs came along we would be happy to accept them. We did not think that this would be in the near future as we could not imagine that homeless pugs would be in abundance.
I came home from work one night and my husband who has taken early retirement said that Wendy from Pug Welfare had phoned, and they had a little girl pug who needed a home. We were so excited and I wanted to know everything about her. Wendy got back in touch and said that she would visit in the next couple of weeks. Not long after this she informed us that she was bringing Gabbie to see us and all being well she could stay. I was at work when she arrived.
When I saw her I just wanted to cry. She is the most gorgeous little girl with the prettiest face. She had not been very well looked after and had a lot of medical problems. She crouched in the corner when anybody went near her; she was very thin, and had bad eczema with lots of bald patches of fur. She also had a very bad infection in her eyes, which has caused her eyesight to deteriorate to only about three quarter sight in one eye only. The other pugs took to her very well, and after nearly a year she is a beautiful little girl who loves to play (something she did not know how to do when she came to us). She has put on most of her weight now and her eczema has recovered. All her fur has grown back and even her eyes seem a little better. I look at her everyday and think how wonderful she looks now. She is our little bundle of mischief and hopefully is now a very happy girl.
We would like to thank everyone at Pug Welfare for letting Gabbie into our home and for all your hard work and look forward to meeting you all very soon.
Love from Frankie, Charlie, Gabbie, Bernadette, Adrian and Grace Mooney