Mandy was heartbroken when her precious pug Peggy was taken by the dreaded PDE at just one year old.   Mandy and her fiancé Alex have since adopted Buster, who came to PDWRA because his back legs didn't work properly.
Mandy continues the story: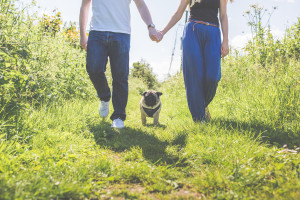 "Since having Buster he has given us new love and a reason to go on with wedding planning. It's hard because I don't own a picture of me, Alex and Peggy altogether as a family, only pictures of us separately, which is a massive regret of mine to not have taken one (although I have over 2000 pictures of Peggy, none with the 3 of us together).   It's hard that we won't have Peggy at our wedding, and I always wonder how Peggy and Buster would've got on, then I remember that without her passing we perhaps wouldn't have looked for Buster, so it's weird to think of it like that.  But I do like to imagine that they would be best friends and that Buster, with his calm and chilled out character, would have been the perfect big brother for Peggy.
Anyway in general he's doing so well, he still hates the car and is scared to go anywhere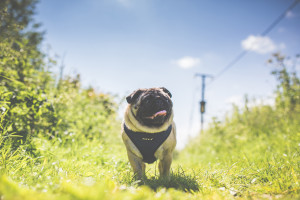 which can be restricting, as we'd love to take him to so many new places, but it's all baby steps with him as I forget we've only had him since November, although it feels like forever in a very good way!  He's still wary of new people and does walk around with his tail down a lot which I'm still adjusting to, not because he's upset but I think it's just a Buster thing and I'm so used to pugs having a curly tail! When his tail curls it's usually for the toilet or a piece of chicken!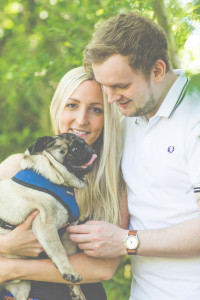 We have our games which we play and he bounces around our flat with his little curly tail, it's so sweet and makes us so happy.  He is very much a daddy's boy, he comes to me for a play and love, but because Alex feeds him and does most walks he is Alex's shadow and will follow him anywhere.  Alex is the first person he runs to for love when we walk through the door from work, must be a man thing!"
Thank you, Mandy, for telling us all about Buster.  We send our very best wishes to you and Alex for your forthcoming wedding.