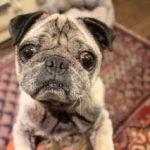 Poppet had been handed to the lady who surrendered her, by a neighbour who said he didn't want her any more.
It is likely she had been used as a back street breeding bitch; there were signs of a recent operation (which was a C section with spey).
Poppet was in very poor condition, very thin with dreadful skin and intensely itchy.  She is only 6 but looks twice that age.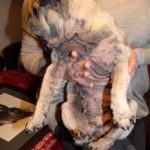 After 5 days in foster, and 2 vet visits, Poppet had already gained some weight, and was much more comfortable.  She still has a long way to go with special baths, medication, skin scrapes as well as lots of TLC!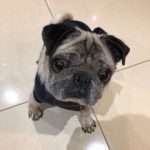 In spite of it all, she is a happy little soul and will make a lovely companion for someone.
The photo below was taken after only 1 week in foster, together with another foster, Freddy, who is being fostered by Poppet's fosterer's Mum!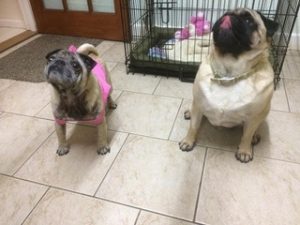 * Poppet – update *
Poppet saw vet Becky for her follow up appointment on Wednesday and she's really pleased with her progress. She is now up to 6kg with her target weight at probably around 6.5kg.
She is to continue on Malaseb baths 2-3 times per week and steroids; one tablet every other day, with a follow up appointment in one month.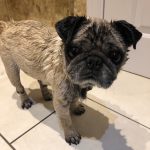 An appointment has been made for Poppet to see an ophthalmologist at Rowes next Wednesday.
Her ear canals are improving with systemic steroids and are less stenosed but Becky remains unable to fully visualise the ear drums, so is reluctant to prescribe drops for now just in case they are not intact. She has suggested her ears are reviewed in one month along with her skin.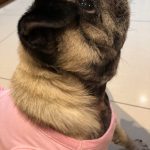 Poppet has enormous character and is quite the pickle.  She certainly doesn't feel sorry for herself at all and has insatiable exercise requirements.  Four miles later and she's ready to go again and then waking her foster carer to insist on play at all times of night!
Since our chat about tough love, Poppet is now thankfully sleeping through the night.
The other good news is that Poppet has a meet and greet lined up next week on Wednesday afternoon with Louise, a previous PDWRA adopter.  If all goes well with the meet and greet then Poppet will stay.  Poppet's needs have been discussed at length with Louise, and she feels confident to continue with Poppet's skin care regime and can take her to Rowes for her follow up appointment.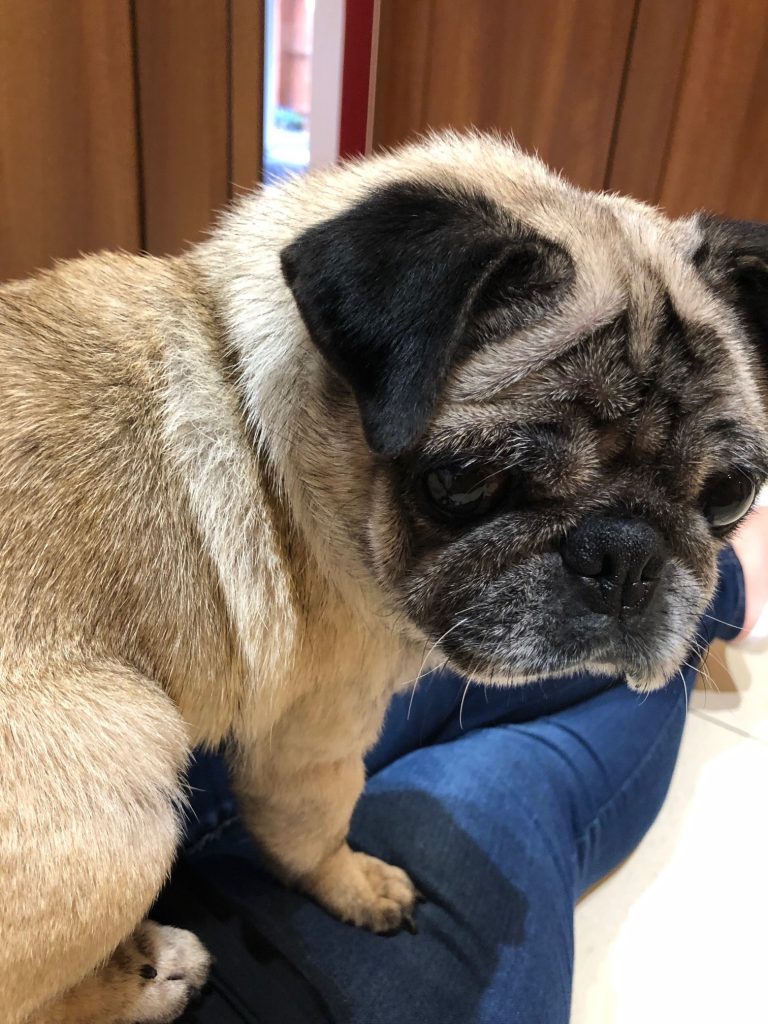 This is where your donations are used – to save pugs like Poppet.