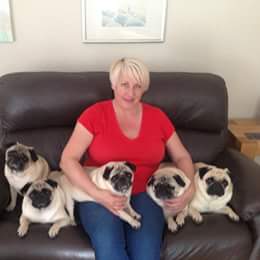 The PDWRA Trustees are delighted to announce the appointment of a new Fundraising Co-ordinator for our charity, Lynne Kellow.
Sarah Tomlinson, who was previously in charge of our fundraising activities, stepped down as a Trustee in May due to family reasons. Our grateful thanks are due to Sarah for all her hard work during her years as a Trustee.
Lynne and her husband Steve are owned by 8 pugs, one of whom has recently become a registered Pets As Therapy Dog. Lynne has wide experience in the voluntary sector; she has served on a number of Canine Society committees, where her particular responsibilities included organizing Shows and Fun Days as well as publicizing events. Lynne is also involved with a large FB meet-up group in her area, for which she has organized a number of successful events with profits donated to PDWRA.
A number of new fundraising activities, covering a wide range of potential opportunities, are already planned. These include the creation of a new PDWRA FB Fundraising page specifically designed to publicise all future events such as garden parties, meet ups etc.
Our well established and ongoing Stamps Appeal is already very successful, and we plan to extend this into an appeal for used printer cartridges.   Watch this space for details.