'Superhero' Themed Sponsored Pug Walks
You choose a date, at any time during the year!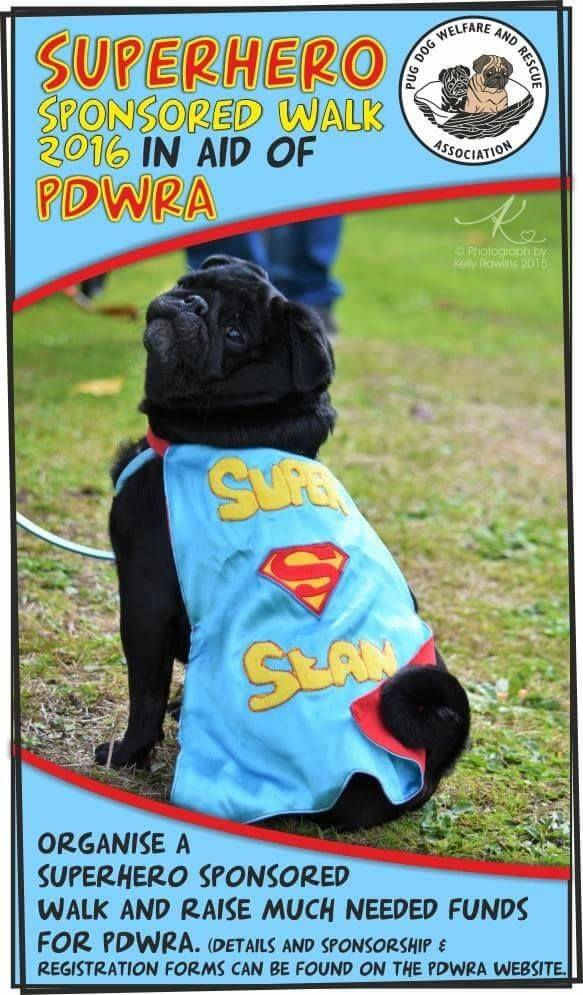 In response to a number of requests, events can now take place throughout the UK, at any time during the year.
Anyone can take part or organise a walk local to them – individual, couple or group.
There is a 'Superhero' fancy dress theme for anyone or any pug who likes to dress up!
Please complete and return the registration form, so we can track events around the country.
If you want to try and find a group near you, please check out the interactive map on our Facebook page.
Please collect sponsors on the Official Sponsorship Form.
For Gift Aid purposes all completed Sponsorship Forms will need to be sent by email to fundraising@nullpugwelfare-rescue.org.uk or to the postal address below.
Payment Information:
http://tinyurl.com/superherowalks
THIS IS THE LINK FOR ALL PARTICIPANTS TO SHARE WITH FRIENDS AND FAMILY.
When paying money in please use GIFT AID and write a comment so we know which group/ individual has donated.
Alternatively, you may send cheques to:
PDWRA SPONSORED WALKS c/o Sarah Tomlinson,
2 Delaisy Way, Winsford, Cheshire CW7 3GH
Cheques should be made payable to PDWRA.
Thank you for registering for a Sponsored Pug Walk, and for fundraising for us.
Sarah Tomlinson