Last week we were contacted by a veterinary surgery in Norfolk about a very young pug puppy, which had been discovered abandoned in a cardboard box outside a local police station, and taken from there to the vets.  We do not know how long the puppy had been left there before being found.  Fortunately the weather has not been too cold, particularly at night, otherwise the rest of this story might have been very different.
The tiny fawn pug had terrible demodex (mange) on all its legs, which had been chewed almost raw, but far worse than that was its left eye, which was actually hanging out.
The vets managed to put the eye back in, gave the puppy pain relief and medication, and then phoned us to see if we could help.  We were told that the puppy was a male, and in view of the likelihood of him losing the eye, we suggested the name of Nelson.
The following day we rang to check on Nelson and were told that Nelson was actually a female pug which they had named Olive!  So we agreed that Olive Nelson would be an appropriate name for a rather special little pug.
Olive Nelson, as she is now known to all of us at PDWRA, remained at the vets for a few more days while they continued to treat the eye and to build up her strength.
On Tuesday this week she began her journey from Norfolk to foster care in south Essex, via an overnight sleepover in Suffolk where she enjoyed a much needed bath and a very peaceful night.  The following day she continued her journey with one further stop in Colchester, from where she was collected by vet nurse Clare, who will be fostering her for the foreseeable future.
We are hopeful that Olive Nelson may be able to keep her left eye, although it has a very nasty ulcer and she is currently on hourly drops.  She has also had skin scrapes to check that the demodex is improving.  Despite this awful start to her life, she is a cheerful little soul and everyone who has been lucky enough to meet her has totally fallen in love with her.
We are not taking applications to adopt Olive Nelson quite yet. She is estimated to be only 8 weeks old.
Olive Nelson on Wednesday this week
Her teddy bear is bigger than she is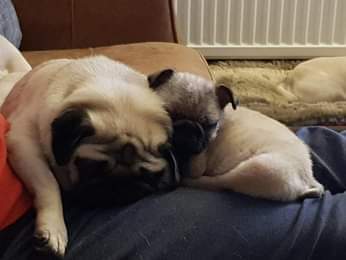 Snuggled up in foster care with Percy pug