SECOND CHANCE FOR COOPER
Cooper and the entire Team at PDWRA would like to thank all his supporters, and everyone who has donated, be it their time, sharing a post, donating or bidding on the fantastic items gifted to us on the Mega Auction page on Facebook.
YOU have raised £1082.50 for this gorgeous boy!
Cooper was surrendered to us profoundly disabled, doubly incontinent and almost paralysed in his back legs as sadly his family recognised that they couldn't cope with him any longer but knew that the PDWRA could find him the best treatment and home tailored for HIM.
Years of pulling himself along on his tummy had caused significant irritation and he is now with the most fantastic PDWRA foster parent who is nursing him through the castration surgery he needed to stop his scrotal area getting further damaged, pendulous and sore.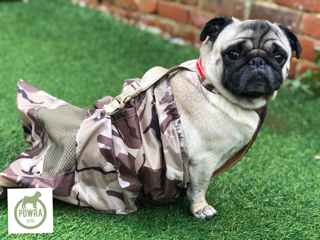 He is pictured in his 'drag bag' kindly donated by Jacqui Robinson, our Northern Ireland Coordinator – this will prevent damage whilst he is healing.
Cooper has now been measured up for his very own bespoke set of wheels that will enable him to run around freely with his foster friends which he adores to do – despite all his problems he's such a happy and friendly little lad. These wheels need to be made specifically for him, it's quite a complex process – fortunately for us Hannah Summers contacted Jim Colla @
and not only is Jim able to give Cooper his mobility back, but he's donated the wheels to him! Thank you Jim!
This means that all of your generous £1082.50 donations can be put towards Cooper's vets and hydrotherapy bills – we can also buy him a 'sling' now instead of the two dressing gown belts the family are using to support him in running around the garden in!
THANK YOU ALL FOR GIVING COOPER HIS SECOND CHANCE AT HAVING A QUALITY LIFE – AS ALL PUGS DESERVE TO HAVE.