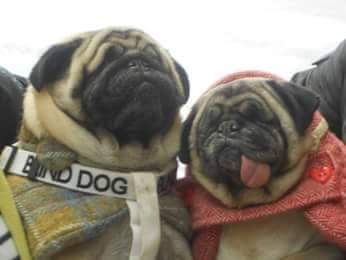 This photo is of Moo Moo and her great friend Radley.   Many of you will remember Moo, a regular attendee over the years at PDWRA parties, who had lost both her eyes but lived out her life very happily with Maggie and Graham Wright.  Sadly Moo is no longer with us, but Radley – who also has lost both his eyes – is still going strong.
Although not a PDWRA pug, the elderly Radley was in need of a set of puggy wheels and a pushchair.  A local fundraising effort was made by a group of pug supporters, and enough money was raised to buy Radley his wheels and a lovely new pushchair.
The money left over from these purchases – £354.56 – has very kindly been donated by the group to PDWRA. We are truly grateful to you all – and for allowing us to use this delightful photo of the two old friends.