Pollyanna and Primrose – why adopt dependent pugs?
Written by their owner Dave.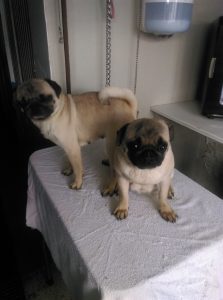 Primrose & Pollyanna picture above – 'before'
I picked up Pollyanna and Primrose, two emotionally dependent sisters, from Ponsanooth in Cornwall on a cold and drizzly late Sunday afternoon in March. I understood they had been rescued from a puppy farm in South Wales where they were had both had several litters and, according to veterinary opinion, had been over-bred. Their living quarters was no warm, centrally heated house but a concrete outbuilding which they shared with a number of other females. They did have access to a concrete area outside. It seems fair to assume there was little in the way of play or contact with humans. It is most probable what they had experienced fell well short of the most basic level of life that dogs should be able to expect.
I'd just lost my own rescue Pug and although I didn't want to take on another dog just yet, (let alone two), I had agreed to do some temporary fostering. Somewhat selfishly I hoped it might take my mind off my own loss. Homes had been found for the single dogs which had been rescued. I could understand prospective adopters being a bit apprehensive about taking on two rescued pugs.
The sisters were friendly enough but to be brutally honest, they were stinking. We drove back with the windows open in an attempt to negate the smell. On the way home they huddled close together in a cage we had brought for the purpose. I doubt they had ever been in a car before coming down from Cardiff to Cornwall earlier in the day and they probably didn't have a clue what was happening to them. Now they were in a car again and would have had no idea what to expect. All they had at that time, and I suspect prior to that, was each other. Emotionally I am not sure what damage it might have done to separate them – especially at that stage.
When we got them home the first thing we did was bathed and fed them. Their bottoms were stained orange where they had sat in their own urine and faeces. It took a number of baths to get them back to something like their normal colour but they did smell much better after that first immersion. That Sunday night I deflea'd them and wormed them on the Monday. There was enough wildlife on them as it was and we had to get a special shampoo from the vets to kill off the mites both were infested with. Understandably neither was house trained. With Polly it came quickly but Primrose took longer. Fortunately Polly helped to train her sister.
That first day I wrote. Primrose is so small – you can't imagine how she could have had puppies. Her ribs are plainly visible. She is very highly strung. Just paces in circles and marks continually. Polly is bigger but still undernourished and has a breathing issue of some sort. Her belly sags almost to the floor and her feet splay out sideways. She looks a sad and pathetic little creature. Good words to describe them both would be, "woeful and bedraggled".
They look after each other although it's really Polly who looks after Primrose. She cleans her and comforts her. Polly seems more like a mum than a sister from the same litter. Prim depends on her totally.
The first morning we had a little walk around the block. Then we went down to the beach then up to a field and off lead for a bit despite dire warnings not to. They loved it and they wouldn't stray from my side or from each other. It was sensation overload all day long. They were learning and sensing new things all the time and it was strangely gratifying to see their delight and wonderment. Grass, sand, the warmth of the sun, cuddles and affection – all stuff most dogs would take for granted and they had probably never experienced. There was a LOT of low riding from both. Anyone could tell they were really happy. Primrose would run in circles while Polly just seemed to bounce and prance and had this gappy toothed grin on her face permanently. The first couple of days it became obvious that they had no idea how to play with toys or with each other. Several weeks on they are still not interested in toys but will play fight a lot.
They are both exceedingly happy and that in itself is really rewarding. The only small issue was that Prim continued to mark. Looking back I think she was just insecure and wanted to mark her territory to let others know that this was her home.
A couple of months in and things are good. The girls are unrecognisable from the woe begotten bundles of fluff that arrived in March. They are well behaved although Primrose in particular has become very adventurous of late. When I am on the computer they curl up on their bed and wait for me to finish. We walk a lot and they are thriving on it. The vet has commented on how good they both look. Primrose has put on a little bit of weight but is still slim although far more muscular than she was initially. She loves to run and run and run and is exceptionally fast for the breed. She is always chasing other dogs on the beach. God only knows how far she travels in a week. Polly is more muscular again and her tummy has shrunk and she looks good but she still has the splayed feet which if anything make her even more endearing. What is really striking is just how happy they are and that level of happiness seems to increase on a daily basis. They've changed from the timid and frightened little things we picked up a couple of months ago into bundles of fun and energy. It's like they are living the childhood they probably never had.
Neither dog barked for the first two months they were with me. Now both will warn me of anyone approaching the house well before the door bell rings. I believe it is a sign of their growing confidence and increased sense of belonging.
The biggest surprise about having two dogs is that it seems so much easier to look after them than it did looking after one dog. They keep each other company. They play and sleep together which gives me a break and of course, they are best mates. I found it easier and less worrying to go out and leave them as they have each other for company and are less likely to suffer from any sort of separation anxiety. The longer they have been with me the easier and more fun it has become.
If anyone has concerns about taking on two dependent pugs please don't worry. In many ways it is far easier than just having one dog. We would avoid separating two dependent humans if that was possible, a mum and child or siblings – it's really no different with pugs. I can honestly say that I have never regretted for a moment taking on these two rescue pugs at the same time. In fact I often think how fortunate I am to have made that decision at the outset. It really is double the pleasure and a lot more besides. I would have no hesitation in doing exactly the same again and would give that advice to anyone considering a double option but being unsure as to what might lie ahead.
Several weeks ago I took these waifs in for temporary fostering. Now they are adopted and I wouldn't swap them for the world.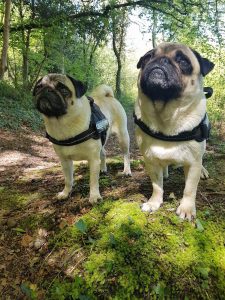 Primrose & Pollyanna now