It is with regret that we have had to cancel the PDWRA Halloween Spooktacular at Weedon Bec, due to lack of support.
We are very sorry to disappoint all the lovely people who did buy tickets, but as we are sure you will appreciate, we cannot run an event that is not financially viable.
We have emailed those who have bought tickets and will be arranging your refunds.  If you have not received an email please contact Lynne Kellow at fundraising@nullpugwelfare-rescue.org.uk
********** EVENT NOW CANCELLED **********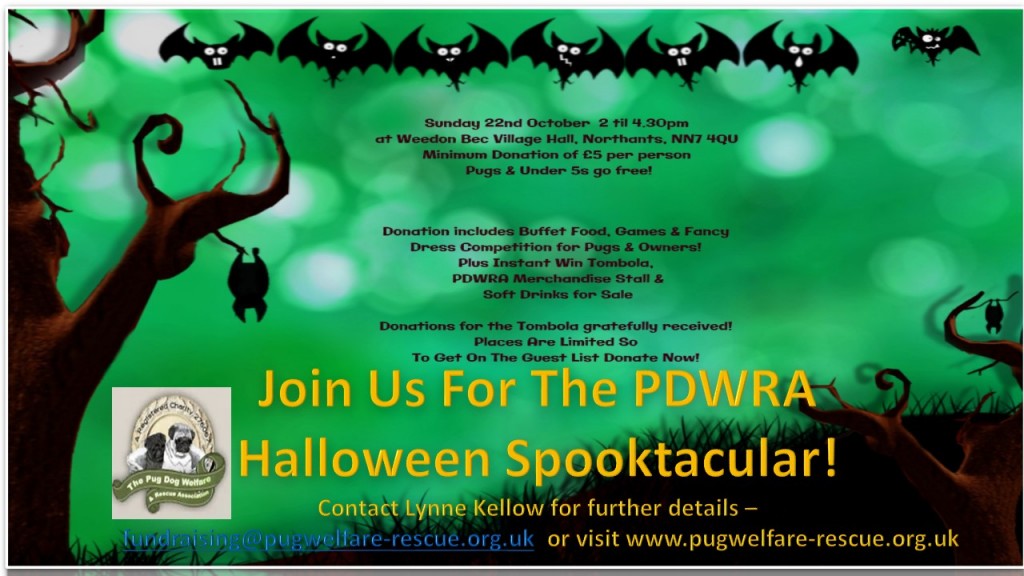 ******************************
New event organised by West Yorkshire Pugs 
Sunday 29 October at Otley, Leeds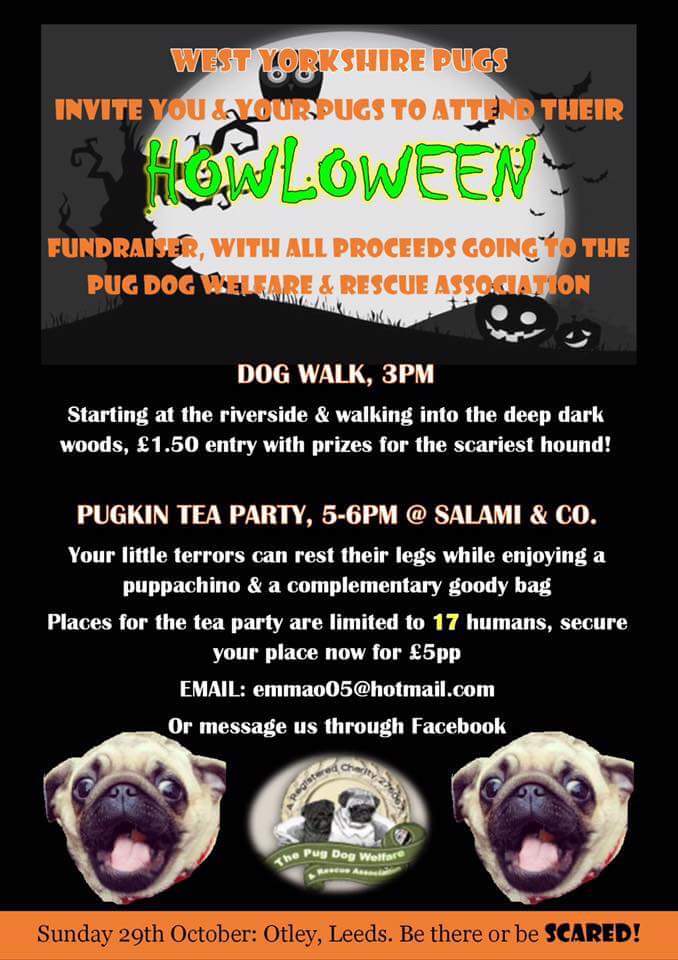 *****************************
South Staffs Pug Club with PDWRA present their Christmas Pug Party!
Sunday 10 December at Slitting Mill WS15 2YW
✨How can I reserve my place?
✨
Santa will need you to follow the instructions below carefully so he and Mrs Claus can put together our guest list and ensure you have the right amount of places reserved… anyone who doesn't runs the risk of being on the naughty list!!
🙈
😁

✨
✨
✨
✨
✨
✨
✨
✨
✨
✨
✨
✨
✨
Places are limited to 60 people and can be reserved by donation to PDWRA via our Virgin Money Giving Page for the Christmas Party.
When making your donation please include your FULL NAME, number of adults and number of children in the comments section when making your donation.
We have suggested the following donations for this event:
£5 per adult
£3 per child aged 3 or over
Free – All pugs and children under 3
Please find the page at the link below:
http://m.virginmoneygiving.com/…/fundraiser/showFundraiserP…
Thank you for supporting PDWRA!
**************************
North Herts Pugs first Pugmas Pawty!
Sunday 10 December at Biggleswade SG18 8JH
Limited spaces available
Raffle – party games – Secret Santa – Photo Booth 
Adults £5   Kids £3    Pugs go FREE!
All money raised will go towards PDWRA
Please send payment for your tickets via Paypal to lilpembe@nullhotmail.com along with your name and how many people
************************
Saturday 2 December at Knutsford 
Tickets can now be booked, price £5 per adult, children and pugs are free. Please add names of adults, number of children and pugs attending in your group. Please pay via PayPal:- paypal.me/cheshirepugs  Friends and family only. Tickets are limited, due to health and safety, please book early to avoid disappointment.