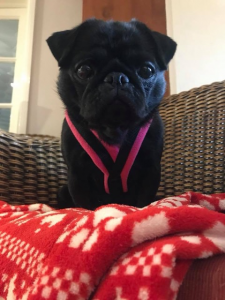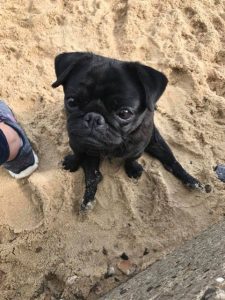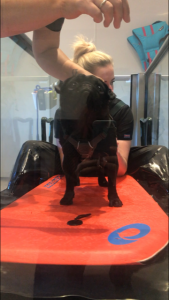 Ava is a very sweet 5 year old female pug with severe mobility issues. She needs constant home physio and regular hydro-therapy. She can walk but does need assistance. She is partially continent but does often surprise herself with her motions. She does need to wear pants at night but is mostly clean during the day. She needs constant access to the garden and no stairs, so flat dwellers need not apply.
She is extremely sociable and needs the company of at least one other pug. She is beginning to interact more and play and does desperately try to keep up with the others.
She does not have a vicious bone in her body and loves people and children. 
She is incredibly loving and loves a cuddle.
Ava would be best suited to someone who is retired or works part time at the very most. She does need daily therapy and we suspect that she has been left alone for long periods so she craves company. To apply to adopt the applicant must have experience of spinal conditions.
1) a person who is at home most of the time or at the very most works part time
2) lives in a house with a garden
4) has another pug or two
5) can keep up her physio and hydro sessions
6) can cope with accidents
7) WILL LOVE THIS GIRL UNRESERVEDLY
If you feel that you have the necessary qualities to have this gorgeous lady in your life please email Deb Lunnon stating clearly why you are the most suitable person.
➡
lunnon2105@

null

gmail.com